Exhibition ECODATA
360 video tour
ECODATA exhibition artists use digital technologies, scientific methods and environmental data to create new aesthetics and raise awareness of "ecological".
ECODATA exhibition is a web of connections that interweaves biological, geo-social and techno-scientific systems, revealing the interdependence of living organisms on each other and their environment.
ECODATA looks at the greatest challenges of our time, such as climate change or pandemics, introduces an "ecosystematic" perspective and calls for "terrestrial coexistence" not just of humans, but all life forms that exist on the planet Earth – wherein culture has never been separated from nature…
ECODATA Exhibition was open for the public from October 9 until November 7 in the National Library of Latvia.
Artists and Artworks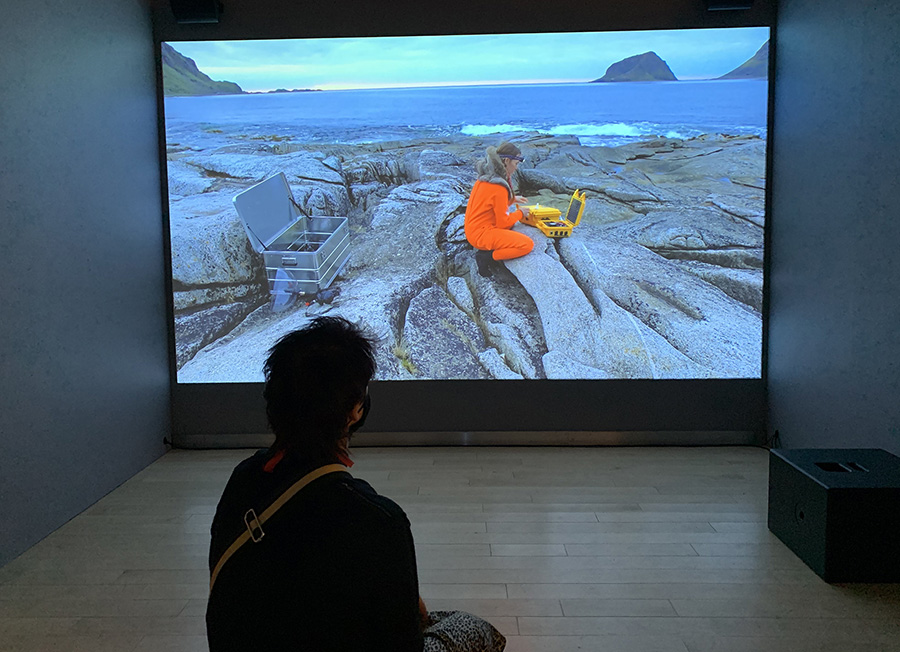 Ursula Biemann, Acoustic Ocean
In the most recent work, Acoustic Ocean, Biemann combines scientific, personal, and phenomenological narrative in an exploration of oceanic depths and interspecies relations above and below the waterline of the Lofoten Islands in Northern Norway.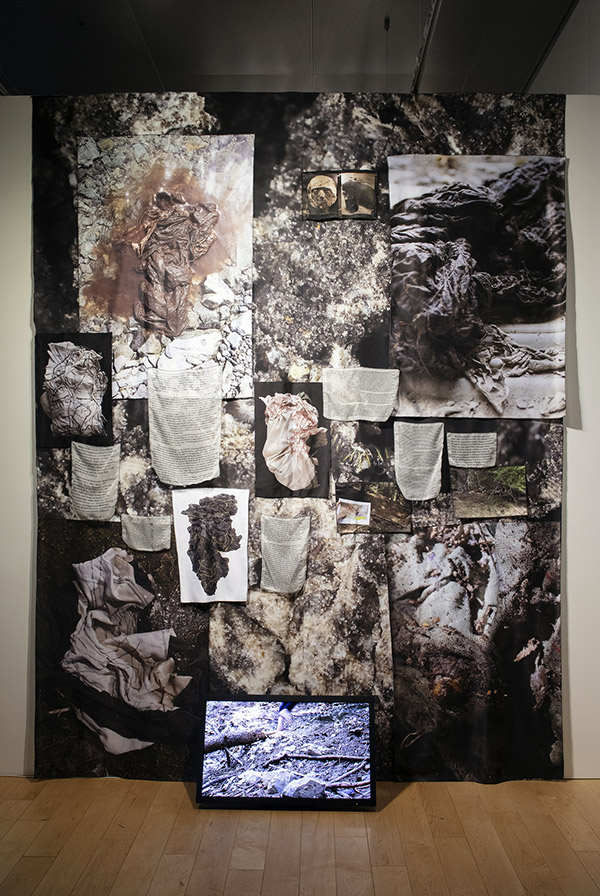 Sarah Burger, (un)earthed
(un)earthed: Nine sewn objects made of biodegradable fabric, buried in nine places. A work about material properties, duration and places, about disappearing and the things that appear from within it.
Francois Knoetze, Cape Mongo: VHS, Glass, Plastic, Metal, Paper, Cell
The short video stories of six characters as they journey through the city of Cape Town. Each Mongo character is made from the city's discarded waste – mythical 'trash creatures' which have emerged from the growing dumps of consumer culture.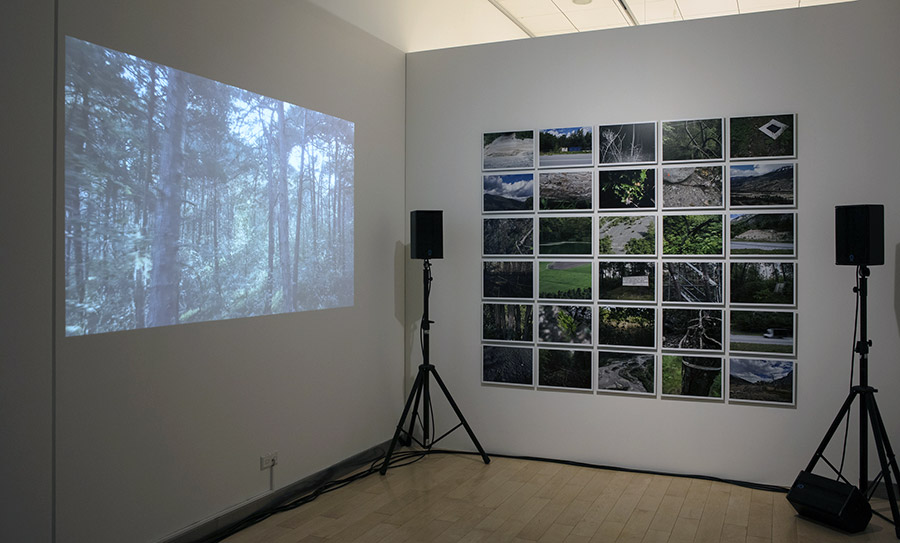 Marcus Maeder, Perimeter Pfynwald
The installation is an acoustic-artistic representation of the Pfynwald in Switzerland, a forest which is already affected by climate change. The artist captured sounds of the Pfynwald forest by placing four recorders in different biotopes several kilometers apart. Thus, it is possible to experience how drought and heat affect the forest's soundscapes between spring and fall.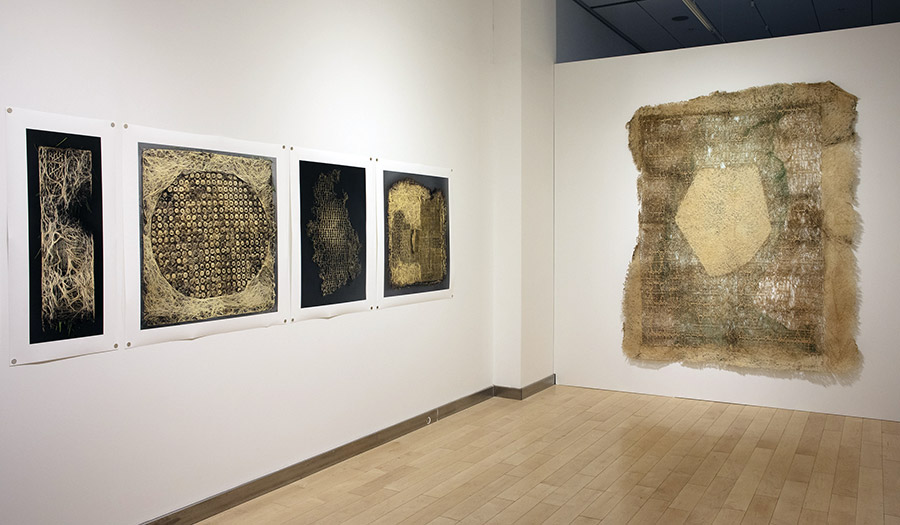 Diana Scherer, Exercises in Rootsystem Domestication
A tapestry grown from plant roots. In collaboration with biologists the artist developed a technique to control the growth of plant roots. The natural network of the root system turns into a textile -like material.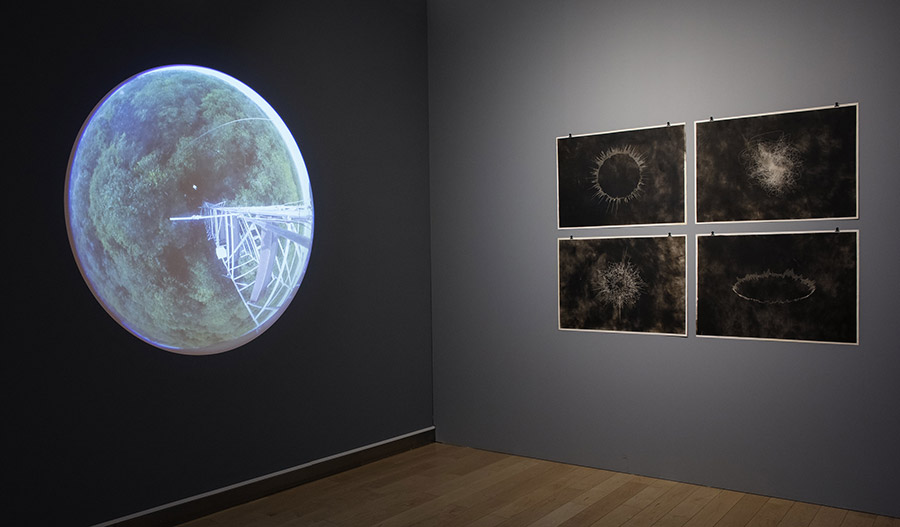 Semiconductor, Data Projector, 365 days of data
A projection shows a series of images which were collected by an experimental observation tower positioned in the heart of Alice Holt Research Forest, UK.
365 days of data is a series of four carbon drawings made using CO2, 3-d wind, temperature and water vapour data collected by four instruments installed on an experimental Flux Tower at the Alice Holt Research Forest.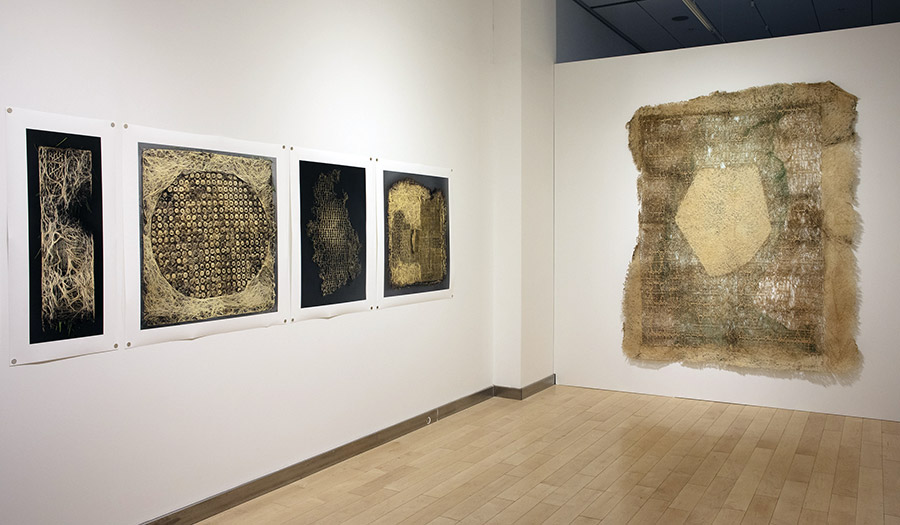 Maayke Schurer, Papers Ocean
The artwork continues a process of recreating scenarios that consider human activity in the natural environment. Miniaturized scenes are filmed real-time to provide opportunity for reflection on our place within nature - for example "What does light look like shining through islands of ocean plastic…"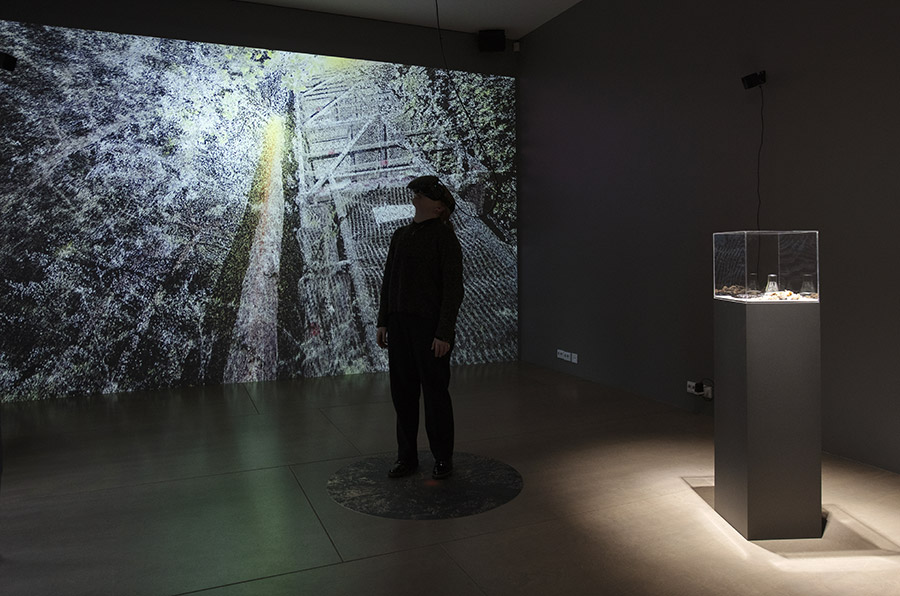 Rasa Smite and Raitis Smits, Atmospheric Forest
An immersive installation that visualizes the complex relations between a forest, climate change and the atmosphere. It is an outcome of a three-year artistic research project on Pfynwald, an ancient Alpine coniferous forest.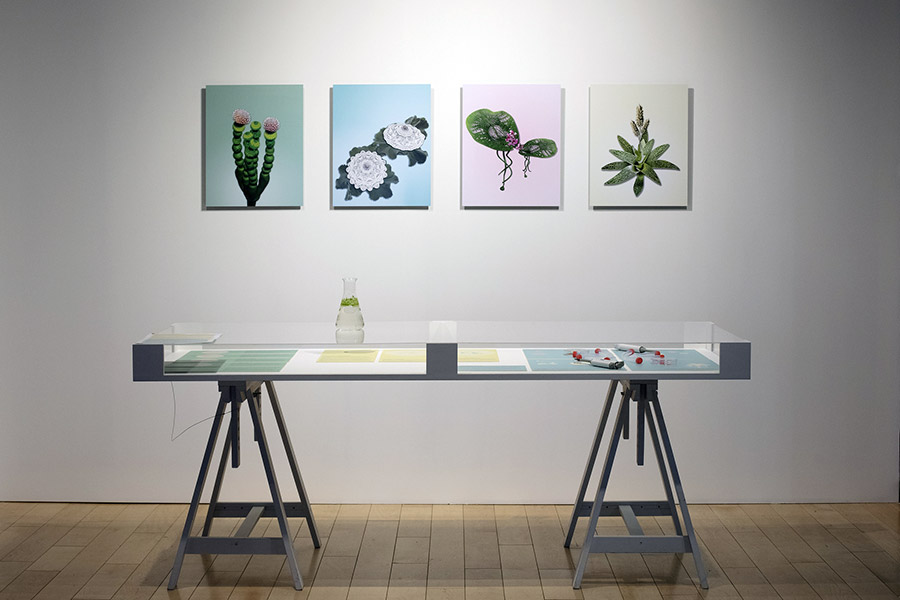 Susana Soares, Urpflanze
Can or should we design plants adaptable to extreme weather conditions? The project attempts to give a brief overview of current research questions whether we should design specific adaptations to a rapidly changing environment.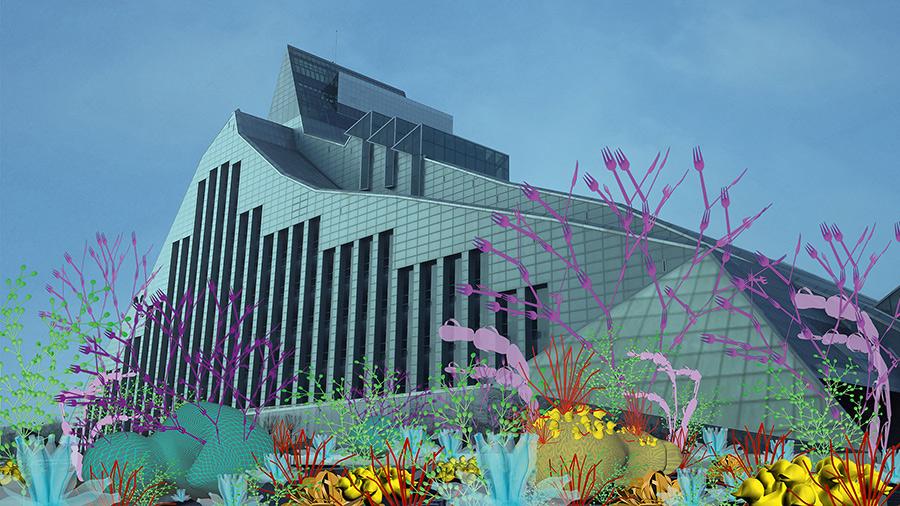 Tamiko Thiel and /p, Unexpected Growth
Plastic refuse seems to have become animate, even mobile. Following natural rules of growth the plastics have grown into strange coral-like structures. The growth in Riga visualised the ocean waters are warming quickly and becoming increasingly full of the plastics.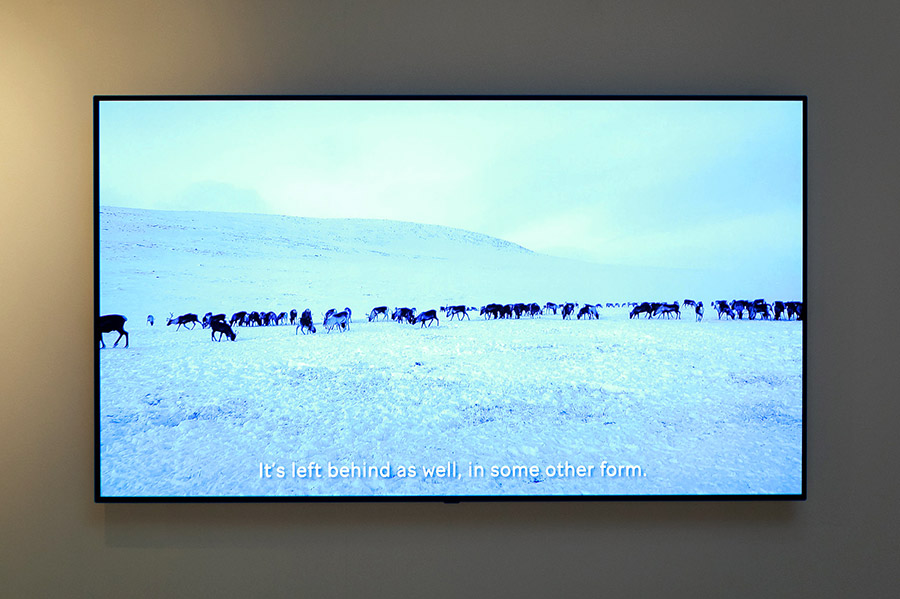 Leena and Oula A. Valkeapää, Manifestations
Manifestations is a compilation of text messages and emails Oula A. Valkeapää sends to his partner Leena describing his Sami background and life with reindeers. They include documentary footage, photography, poetry and less formal texts.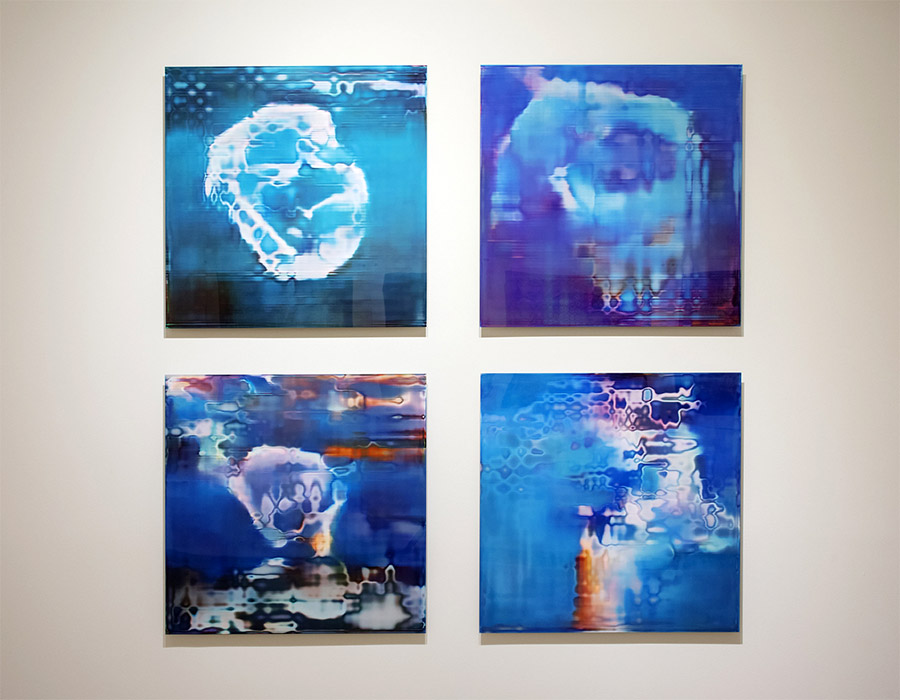 Varvara & Mar, Under The Water
The artists have created data sets of plastic in the ocean, which were used for training Progressive GAN algorithm to generate images of trash under the water.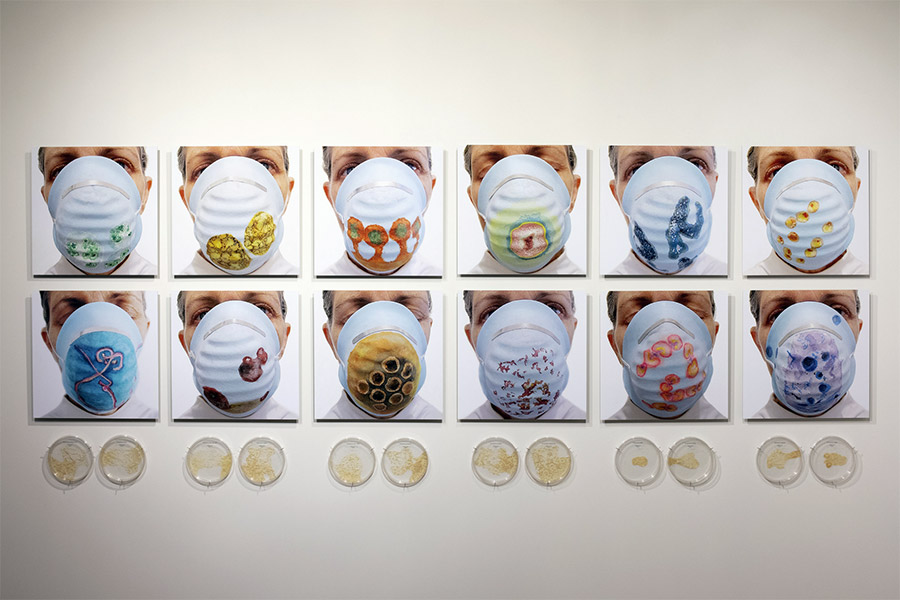 Elaine Whittaker, Screened For
A series of 12 digital prints that turn fear of the viral, of the microbial, and of impending pandemics, into beauty. The images are larger than life self portraits of the artist wearing medical masks painted with an array of microbial infectious diseases.
RIXC Festival Exhibitions
Nav iepriekšējā linka

Nav nākamā linka